Integrated Care in Practice: Ensuring Systems Deliver for People, Places and Populations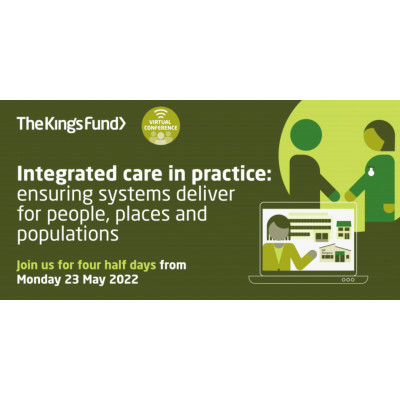 Exhibit
Symposia
Workshops
Organiser
Sponsor
From 1 July 2022, integrated care systems (ICSs) will be established as statutory bodies in all parts of England, with place-based partnerships also taking on a central role in the new system. As ICSs begin the next stage of development, how can all involved ensure they are truly different to what has come before and have a meaningful impact?
We're running this virtual conference across four half-days, from 23–26 May, which will celebrate the progress that ICSs have made so far. Sharing the vision and journey of established ICSs, this conference will explore how place-based partnerships, newly established relationships and systems leadership can leverage opportunities, and navigate the risks and challenges, to deliver a step change in health and wellbeing outcomes in population health.
Please note, there is a £20+VAT surcharge to cover the cost of processing invoices. This is in addition to the ticket price and will be added to your invoice. There is one invoice fee per order, not per ticket. There is no charge for paying by debit or credit card.
Book now for discounted early bird tickets:
Public sector, charity or university
​​​​​£130+VAT (standard rate: 180+VAT)
Small-medium sized enterprise
£180+VAT (standard rate: £250+VAT)
Commercial/profit-making organisation
£250+VAT (standard rate: £355+VAT)
Event topics
ensuring ICSs are truly different to what has come before
delivering effective place-based partnerships through meaningful and equitable collaboration with local government and the voluntary and community sector
building ICSs focused on population health
redesigning services to deliver co-ordinated care and address the wider determinants of health
developing leadership skills in the health and care system to lead and enable teams to work differently across services and organisational boundaries to create long-lasting system change.
More events