Improving Quality of Care: The Vital Role of People's Voices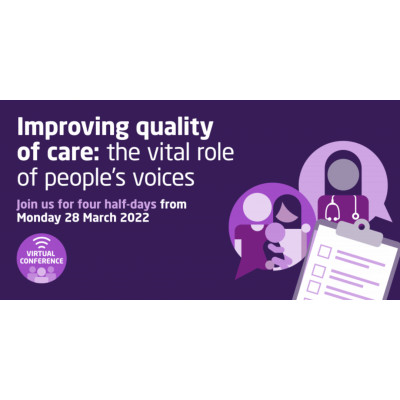 Exhibit
Symposia
Workshops
Organiser
Sponsor
The King's Fund and Healthwatch England join forces on 28–31 March 2022 to explore how meaningful engagement and listening to people's experiences can result in better-quality care.
We will all need to use health and social care services at some point in our lives. Many complex factors can influence the quality of care we receive. However, policy-makers and researchers are increasingly highlighting the importance of putting people's voices at the centre of organising and planning health care services.
Although seen as important, listening to people properly, harnessing the lessons from feedback and implementing them to make changes is not always straightforward. How can the NHS and social care services ensure that they really listen to and learn from people and communities?
Ticket prices

£180+VAT - Public sector, charity or university
£250+VAT - Small-medium sized enterprise
£355+VAT - Commercial/profit-making organisation
Student tickets
If you are a student in full-time education, please email us for a promotional code, with a photograph of your valid student ID. Student tickets are £60+VAT.
Bursary tickets
We offer a number of free bursary places for patients and carers. These places are limited to maintain a balance of voices in the room between patients, service users, carers, and health and care professionals. To apply for a bursary place please email us a short paragraph explaining why you wish to attend.
Please note, there is a £20+VAT surcharge to cover the cost of processing invoices. This is in addition to the ticket price and will be added to your invoice. There is one invoice fee per order, not per ticket. There is no charge for paying by debit or credit card.
More events