Global Clinical + Care Coordination Forum (GCCCF) 2019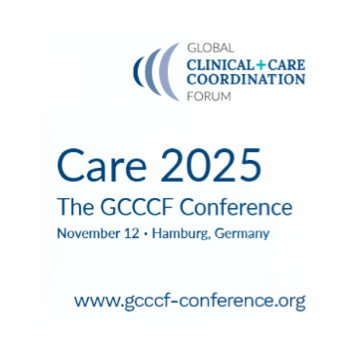 Exhibit
Symposia
Workshops
Organiser
Sponsor
Apart from a series of roundtables, the Global Clinical + Care Coordination Forum (GCCCF) organized a one-day conference titled "Care 2025" on November 6, 2018. For full information on the conference, please refer to www.gcccf-conference.org and see our post-event report.
Focus Topics 2019
Transformational technologies/digitalization for enhancing patient-centricity

Better communication and collaboration in hospitals and care organizations

Balance between information-driven care and 'the human touch'

GCCCF Conference
93 delegates from 14 countries participated and made the 2018 conference a great success.
"I was surprised by the level of the speakers and I am sure that having this kind of forum will help us to have swift digital transformation in (the) healthcare sector."
"… thank you for a super relevant and well-run conference on November 6th in Hamburg"
"I really appreciated the events (roundtable and conference) and above all the outstanding set of speakers"
Programme available online here
Monday, November 11, 2019
18.00 – 21.00
Reception for all conference delegates
at the Hotel The Fontenay

Tuesday, November 12, 2019
Conference at the Hotel The Fontenay
Fontenay 10
20354 Hamburg, Germany
09.00
Registration and welcome coffee
09.30
Conference Opening / Welcome Address
Ljubisav Matejevic
President, Global Clinical + Care Coordination Forum (GCCCF)
10.00
The digital revolution of medicine
Prof. Dr. med. Jörg F. Debatin
Chairman of the Health Innovation Hub (hih), Federal Ministry of Health
10.30
From clinical decision to predictive analytics in the ICU
Prof. Jean-Daniel Chiche
Réanimation Médicale of Hôpital Cochin, Université Paris Descartes
11.00
tba
Holger Cordes
CEO, Ascom Group
11.30
Coffee break and networking
12.00
tba
12.30
tba
13.00
Lunch buffet and networking
14.00
Breakout Session – Workshop # 1
tba
14.00
Breakout Session – Workshop # 2
tba
14.45
tba
15.15
Coffee break and networking
16.00
tba
16.30
tba
17.00
tba
17.30
Closing Remarks
Registration available online here
175 Euro plus 19 % VAT

More events