ELDEX: Eldercare Exhibition & Conference Asia 2019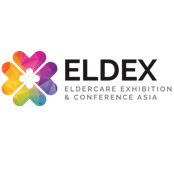 Exhibit
Symposia
Workshops
Organiser
Sponsor
The inaugural edition of the Eldercare Exhibition and Conference (ELDEX) Asia will present a comprehensive spectrum of new and innovative solutions, products, services and technology by leading manufacturers and brands from around the world for the rapidly aging Asian societies. ELDEX Asia focuses on active aging by emphasising on nutrition and exercise via its medical conference. ELDEX Asia aims to catalyze industry growth by facilitating conversations between start-ups and potential investors to accelerate their development.
It will be held in Singapore, a hub and gateway to ASEAN markets (our primary trade and end-user visitors) and the rest of Asia including Japan, Korea, China and Australia.
0930 Morning session: Exercise for seniors
Keynote presentation
Maintaining Health and Preventing or Reducing Frailty in Older Adults
Associate Professor Wee Shiou Liang
Deputy Director, Geriatric Education and Research Institute
1015 Presentation #2
A Gerontologist's Guide To Living A Longer Happier Life: How exercise unlocks the factors to living a healthy lifestyle as you age
Mr Dan Levitt
Adjunct Professor, Gerontology, Simon Fraser University
1045 Tea Break
1100 Presentation #3
Gym Tonic: Mainstreaming Strength Training For Seniors
Mr Gabriel Lim
Programme Director, LIEN Foundation
1145 Presentation #4
Technology for Exercising Frail Elderly – What Really Matters?
Ms Teresa Wong
Managing Director, BODYENGINEERING
1230 Panel Q&A
Moderated by: Isaiah Chng
Founder and Director, ProAge Pte Ltd
1245 Lunch and Networking
1400 Afternoon session: Nutrition for seniors
Keynote presentation
Nutrition Is Medicine
Associate Professor Huang Dejian PhD
Food Science and Technology Programme, Faculty of Science, National University of Singapore
1445 Presentation #2
Nutrition And Exercise: Complementary Strategies In The Management Of Frail Older Persons In The Community
Adjunct Assistant Professor Samuel TH Chew (NUS)
Senior Consultant Geriatrician, Department of Geriatric Medicine, Changi General Hospital, Singapore Health Services (CGH Campus)
1530 Tea Break
1545 Presentation #3
Vitamin Supplementation In Older Adults – Myths Or Facts?
Ms Annie Barr
Managing Director, Annie Barr International
1615 Presentation #4
Nutrition For A Hospitalised Senior
Dr Lim Yen Peng
Head and Senior Principal Dietician, Department of Nutrition and Dietetics, Tan Tock Seng Hospital
1645 Presentation #5
A Fresh Approach To Alzheimer's Disease
Dr Judy Walker
Chief Medical Officer, Cerecin
1715 Panel Q&A
Moderated by: Grace Gan
Entrepreneur
MPH, King's College London
1730 Concluding keynote presentation
Making Healthy Choices Relevant To The Consumer
Professor Tai E Shyong
Senior Consultant, Division of Endocrinology, National University Hospital
1815 End of medical conference
Registration available online here
More events