EAHP 2021 - Hospital Pharmacy 5.0 - the future of patient care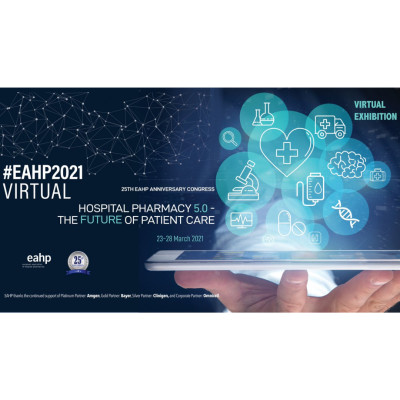 Exhibit
Symposia
Workshops
Organiser
Sponsor
Dear Friends of European Hospital Pharmacy,

"Hospital Pharmacy 5.0 - the future of patient care" will be the theme for the presentations at the virtual 2021 EAHP Congress. Since the beginning of 2020 the world is confronted with the covid-19 pandemic in which many lives are lost and with a lasting impact on our future daily life. Hospital pharmacists learned about the importance of risk management, prediction algorithms, communication, local production capacity and modern technology such as 3D-printing. More than ever we need to reinvent our current healthcare models.
This year we will help you to focus on digitalization and modern technology. Clinical decision support, machine learning and prediction algorithms are tools that we will use to support healthcare professionals in providing the best care for the patient in the hospital of the future. "Personalised medicine" was the theme of our last congress, this year we'll see if this can be supported by modern technology. This is an invitation to all of you to engage.
The 25th Anniversary Congress of the EAHP will offer you inspiration to prepare for a digital future where computer algorithms, technology and prioritization tools can support us to improve patient care within the available resources. The first keynote presentation is dedicated to "Artificial Intelligence" as a tool in the hospital of the future. The vision for the prescribing pharmacist will be the subject of the second keynote lecture. Finally, the third keynote will focus on digitalisation and a futuristic perspective of healthcare. Like last year we related 30 seminars and workshops, which are open for interaction with the speakers, to the different Sections of the European Statements of Hospital Pharmacy.
Information will be shared during the seminars in the form of presentations by two or three speakers allowing sufficient time for questions. Along with keynotes and seminars best practices will be disseminated by our abstract poster prize nominees and through the Good Practice Initiatives (GPIs). In addition, workshops within the theme of the congress will be given providing inspiration on tele-pharmacy, pharmaceutical care at home, dose-banding for individualized therapy, clinical prioritisation tools, the role of the hospital pharmacist and career design. Based on the success of last year's congress, the Synergy programme is extended and will continue with many relevant topics.
Join the 25th Anniversary Congress of the EAHP on the digital platform. Although this new way of interaction is inspired by covid prevention measures it really fits into the congress theme on future and digitalization and it reflects the way how our community was interacting during the last year. We all learned how to use this medium interactively. So come and enjoy!
Thomas De Rijdt, EAHP Scientific Committee Chairman
Registration available online here
Programme available online here
More events