CT and MRI in the diagnosis of Colorectal Cancer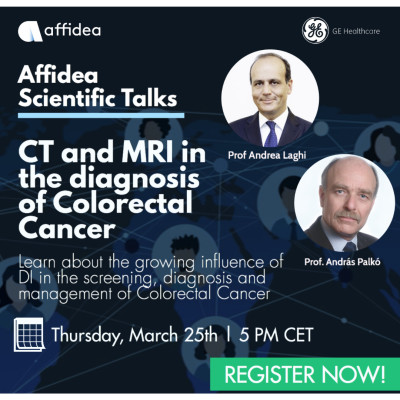 Exhibit
Symposia
Workshops
Sponsor
March is the European Awareness Month for Colorectal Cancer. With this occassion, we draw attention on the importance of early diagnosis of colorectal cancer cases.
Colorectal cancer is the second deadliest cancer in the European Union, with approximately 170,000 people loosing the fight with the disease every year, out of a diagnosed population of 370,000. The incidence of Colorectal Cancer is expected to rise significantly in the next decade, mainly due to the ageing of the population and factors such as tobacco and alcohol use, unhealthy diets, physical inactivity, and obesity, according to WHO.
This time, Affidea Scientific Talks focuses on the growing influence of diagnostic imaging in in the screening, diagnosis and management of Colorectal Cancer and the way radiology findings can impact the clinical decision making. International recognise experts will speak about the role of CT and MRI in the diagnosis of Colorectal Cancer.
Register now and keep up to date with the latest developments in this area!
Dr. Alessandro Roncacci, Senior Vice President Affidea - Introduction
Prof. Andrea Laghi - CT colonoscopy and its role in colorectal cancer screening
Prof. András Palkó - The role of MRI in the diagnostics of colorectal cancer
Q&As
Registration available online here
More events