COVID-19 MASTERCLASS – From Diagnosis to post-Covid follow-up!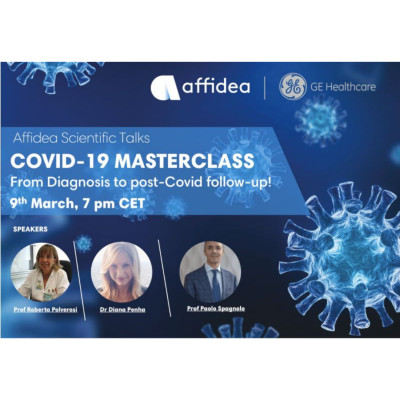 Exhibit
Symposia
Workshops
Organiser
Sponsor
Covid-19 pandemic has brought key challenges in the clinical management of the patients that have recovered from this disease. That is why it is of utmost importance to bring experts together, exchange clinical practices and find common or shared answers to tackle from 360 degrees perspective the follow-up of patients with Covid-19.
The complex nature of this common challenge and its practical implications is generating unprecedented stress on several components of our health system and requires rapid responses, reorganization of how care is delivered and novel management solutions. With this webinar, we want to bring together all the key clinical specialties involved in the management of Covid-19 patients to share practical medical advice. The Affidea Scientific Talks, organized in partnership with GE Healthcare, are
free and open to the public
. Recording of the webinar will be available soon after the webinar airs on our
YouTube channel.
Programme
19:00 – 19:15
Dr. Diana Penha - Imaging on the frontline – CT in Covid-19 diagnosis
An insight into the growing importance of CT in the overall diagnosis of SARS-CoV-2 Infection
19:15 – 19:30
Prof. Roberta Polverosi – Unleashing the hidden marks: The role of imaging in the post-Covid management
An overview of the role of diagnostic imaging in the management of patients following SARS-Cov-2 infection
19:15 – 19:45
Prof. Paolo Spagnolo - The Follow-up of Subjects with SARS-CoV2 Infection
Clinical insights into the follow-up of asymptomatic to mild and? severely ill patients following SARS-CoV-2 infection
Registration Available Online here
More events