Advances in Prostate Cancer Diagnosis & Treatment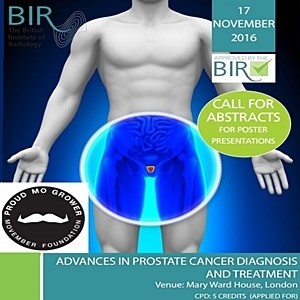 Exhibit
Symposia
Workshops
Organiser
Sponsor
This event, supporting the Movember Foundation, encompasses both an educational day event aimed at medical professionals and an informal evening session for those interested in the patient experience. Delegates may attend one or both of the sessions.
The day will highlight new imaging and therapeutic aspects concerning prostate cancer. It is aimed at radiologists, oncologists, urologists, specialty trainees and radiographers but will also be of interest to junior and senior clinicians interested in prostate cancer.
The evening talk is open to all and will hear from a patient who will talk about their care pathway and experiences.
Call for abstracts
We are looking for abstracts for Poster presentations relating to all areas of prostate cancer diagnosis and treatment.
Abstracts can be submitted via our website at:
www.bir.org.uk/education-and-events/call-for-abstracts
Please ensure that you have read the abstract submission guidelines, abstracts submitted after the deadline will not be accepted.
Submission deadline: Friday 30 September 2016


Registration fees*
Full event
BIR member Plan 1 £165
BIR member Plan 2 £130
BIR Trainee member £85
BIR Retired/Student member £75
Non member £270


Day only
BIR Plan 1 member £145
BIR Plan 2 member £110
BIR Trainee member £65
BIR Retired member £55
BIR Student member £55
Non-member £250


Evening only
Non BIR member £40
BIR Member £20

*£5 from each delagate will be donated to the Movember Foundation.



08:45

Registration and refreshments

09:15

Welcome and introduction




Session 1 - Diagnosis




09:30

Multiparametric prostate MRI: Seeing is believing

Dr Alex Kirkham, Consultant

Radiologist, Princess Grace Hospital

10:15

Imaging of metastatic prostate cancer: Challenges and opportunities

Professor Anwar Padhani,

Consultant Radiologist, Mount Vernon Hospital

11:00

Refreshments

11:30

The role of multiparametric MR in planning and following focal therapy

Dr Tristan Barrett

University Lecturer/Honorary

NHS Consultant Radiologist, University of Cambridge

12:15

Lunch




Session 2 – Treatment




13:15

IMRT for prostate cancer: Why, when and how much?

Dr Isabel Syndikus, Consultant

Clinical Oncologist, The Clatterbridge Cancer Centre NHS Foundation Trust

14:00

Hypofractionation: The evidence so far

Dr Nicholas Van As, Consultant

Clinical Oncologist, The Royal Marsden

14:45

Refreshments

15:15

Brachytherapy

Dr Robert Laing, Radiation

Oncologist, St Luke's Cancer Centre




Session 3 - Advances




15:45

Advances in nuclear medicine

Dr Tara Barwick, Consultant

Radiologist and Nuclear Medicine Physician, Imperial College

Healthcare NHS Trust




Session 4 -The multidisciplinary team




16:15

The multidisciplinary team approach to prostate cancer management: case discussions

16:45

Close of day event




Evening Session




17:00

Refreshments and registration for evening session

17:45

Simon Lord, Prostate cancer survivor

18:30

Question and answer session

18:45

Networking with cheese and wine

20:00

Close of evening event
More events