5th Edition of International Cancer Conference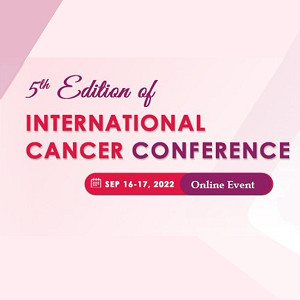 Exhibit
Symposia
Workshops
Organiser
Sponsor
WELCOME TO ICC 2022 | ONLINE EVENT
Magnus Group solicits your gracious presence at its "5th Edition of International Cancer Conference" (ICC 2022) scheduled as Online Event during September 16-17, 2022.
The congress will deliberate on the theme "Combating Cancer with Novel Paradigm in Oncology Research."
The global cancer burden increased to 19.3 million cases and 10 million deaths in 2020, according to new estimates from the International Agency for Research on Cancer's Global Cancer Observatory, and is expected to rise to more than 30 million cases and over 16 million deaths by 2040, with the majority of the increases occurring in low- and middle-income countries. Cancer incidence and mortality are increasing globally due to ageing populations, limited access to preventive and oncology care services, a shortage of cancer specialists, late-stage disease presentation, medicines, and diagnostic equipment, obesity, and lifestyle choices (including smoking and alcohol use). Cancer treatment has traditionally been regarded as one of the most important and significant clinical topics. Depending on the type and stage of the cancer, a variety of approaches have been developed. It's high time for us to start providing high-quality cancer care to low-resource areas.
Our forthcoming conference will strike up conversations on the present status of cancer treatment and provide an interactive forum to hear about policies and neoteric changes that are being implemented to help reduce cancer treatment backlogs and, ultimately, improve the health of cancer patients. This two-day conference will provide a timely opportunity to hear from, learn from, and interact with some of the World's finest oncology professionals while networking with like-minded peers.
The agenda of the ICC 2022 is to promote discoveries, evaluate system and strategic issues, and develop and maintain basic systems between analysts, experts, arrangement producers, and healthcare agents through its plenary talks, keynote sessions, oral and poster presentations. We've invited some of the world's most influential speakers including researchers, scientists, oncologists, cancer specialists, pharmacists, clinicians, academicians, young scholars, healthcare professionals, policymakers and industry representatives to provide motivational presentations and workshops.
Join us at ICC 2022 for an interactive environment aimed at improving cancer patient outcomes.
More events