4TS Conference 2018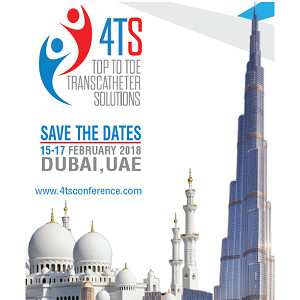 Exhibit
Symposia
Workshops
Organiser
Sponsor
IMPORTANT DATES
Early Bird Registration - 10th November, 2017
Abstract Submission Deadline - 30th November, 2017
In this meeting we expect to have more than hundred eminent local / regional and international speakers and hundreds of delegates from the region and internationally.
This is a first class meeting involving multidisciplinary team including.
There will be many case presentations of cases from the intracranial interventions, to carotids, coronary, valvular structural heart disease aortic and lower extremities interventions in addition to, lectures, debates, live cases and hands on workshops.
Scientific Topics
The latest in coronary i

nvention



Complex aortic aneurysm percutanous repair

Critical led ischemia managements

Latest in heart failure treatment

Latest in lipidology

And much more

Conference Objectives
Improve the skills in approaching challenging cardiac and vascular cases

Learning from interesting cases from around the world

Learning new treatments for difficult cardiac and vascular cases

Update the knowledge in many aspects of cardio vascular field

Target Audience
Cardiologists

Interventional Radiologists

Neurologists

Vascular Surgeon

Cardiac Surgeon

General Physicians

Nurses

Students

Registration Category
Early Bird Registration

10 Nov 2017

Regular Registration

11 Nov 2017 - 9 Feb 2018

Onsite Registration

16-18 Feb 2018

Physicians
$ 450
AED 1,655
$ 500
AED 1,840
$ 600
AED 2,200
Non-Physicians
(Industrials, Specialties & Subspecialties)
$ 300
AED 1,105
$ 380
AED 1,285
$ 400
AED 1,475
Physicians in Training
$ 200
AED 735
$ 280
AED 920
$ 300
AED 1,104
Nurses & Students
$ 100
AED 365
$ 150
AED 552
$ 200
AED 735
Registration fees entitles participants to attend all the general & concurrent sessions, entrance to exhibition, coffee breaks, lunch and conference materials.
For administrative and preparatory reasons, online registration is possible until 9 February 2018 (GMT+ 4). From this date onwards, we advise you to register and pay the applicable onsite registration fees at the venue, during Conference registration hours, commencing on 16 February 2018.
*For administrative purpose, a copy of your ID is required as a proof in order to avail the Physician in Training, Nurses and Students registration rate.
Terms and Conditions
Registrations are confirmed only upon payment receipt.
Registration fee apply as per the date of payment.
If the payment is made within 10 days to the event date, a proof of payment or a credit card/letter of guarantee will be required.
Should your payment not be received prior to 10 days to the event date, the Event Organizer reserves the right to cancel your pre-registration.
If you cannot attend the event we are happy to accept a substitute delegate until 15th January 2018. After this date, name changes can only be coordinated onsite with a fee of USD 20.00 or AED 75.00 per name changed.
Cancellation & Refunds
100% refund - cancellation 30 days before the event date with a deduction of administrative fee of USD 100.00 or AED 365.00
No refund - 100% cancellation fee will be charged for any cancellations 30 days prior to the event date.
Methods of Payment
Payment of fees in Dollars (USD) must accompany all registrations. No registration will be confirmed until payment is received. PAYMENT can be made either by:
Bank Transfer
A copy of the bank receipt must be sent by fax or e-mailed together with the completed registration form to + 971 4 311 6301 or send an email to: [email protected]. Please note that bank transmission fees have to be paid by the transmitter. Bank details are as follows:
| | |
| --- | --- |
| Beneficiary | MCI Middle East LLC |
| Account AED | Bank Account (AED): 1011 233252 601 / IBAN: AE200260001011233252601 |
| Account USD | Bank Account (USD): 1021 233252 602 / IBAN: AE280260001021233252602 |
| Bank | Emirates NBD |
| Address | P.O. Box 11954, Al Suk Branch, Dubai, United Arab Emirates |
| Swift code | EBILAEAD |
| Phone | + 971 4 35 33 545 |


Credit Card
Only Visa, MasterCard are accepted. For credit card payments, you must fax/email clear copies of both sides of the credit card and of your passport copy to:
MCI Middle East LLC, P.O. Box 124752, Dubai Fax: +971 4 311 63 01 [email protected].
Important Notes
Registrations not accompanied by appropriate payment as outlined above will not be honored until full payment is received.
When names of participants are NOT stated on the bank transfer, your payment cannot be linked. Consequently, your payment will be unknown to the Administration Office.
Only the forms of payment listed above are acceptable. Company and personal cheques are not accepted unless company is based in the UAE.
Currency exchange charges or bank collection fees are the responsibility of the registrant.
Please do not forward any values by mail. The Organizing Committee will accept no liability for any loss.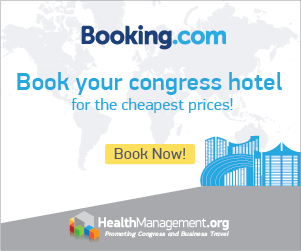 More events