4th Emirates Family Medicine Society Conference EFMS 2021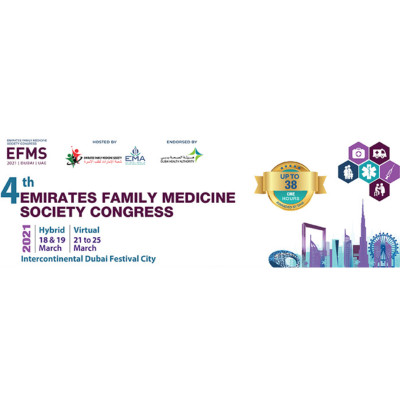 Exhibit
Symposia
Workshops
Organiser
Sponsor
Welcome to the 4th edition of the Emirates Family Medicine Society Congress, due to unfold in hybrid format on 18th and 19th March 2021 at the Intercontinental Dubai Festival City and virtually only between the 21st to 25th March 2021.
This highly educational scientific experience is addressed to all physicians and healthcare
professionals eager to hone their skills and expand their knowledge with the latest updates in primary healthcare to be addressed by international partners on the full spectrum of topics in Family Medicine, covering keynotes and plenary sessions, industry symposia, panel discussions, debates and networking opportunities, making it the must-attend Family Medicine Congress for 2021 in the GCC region.
We are proud with our society's achievements in fostering exclusive scientific partnerships with international partners from the College of Family Physicians of Canada, the Royal Australian College of General Practitioners, the American Board of Family Medicine, and the Royal College of General Practitioners, set to develop a long-term mutual collaboration and we sincerely hope that you will make the most out of your participation in the 4th EFMS Congress 2021 and look forward to e-meeting you all for another memorably valuable experience for all our stakeholders in this wonderful opportunity!
Registration Available Online here
More events