29th European Association of Hospital Managers (EAHM) Congress 2020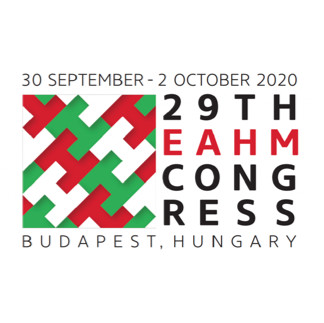 CANCELLED DUE TO COVID-19 HEALTH CONCERNS. 
2021 EVENT CAN BE FOUND HERE

Find EAHM on Social Media 
Exhibit
Symposia
Workshops
Organiser
Sponsor
Main topics:
– lnnovative, Virtual, Smart – Future Technologies
– Hospitals Go Green
– Doctor Who – New Roles in Health Care
Important deadlines
Early-bird registration before: 1 June 2020
Standard registration from: 1 June to 25 September 2020
On-site registration after: 25 September 2020
Abstract submission opening: 20 January 2020
Abstract submission closing: 19 April 2020
Programme will be available soon..
Registration will be available soon..
EAHM members:
Early bird until 1 June 2020: 350€ + 27% VAT
Standard after 1 June and until 25 September: 400€ + 27% VAT
On-site after 25 September: 450€ + 27% VAT
Non-members:
Early bird until 1 June 2020: 450€ + 27% VAT
Standard after 1 June and until 25 September: 500€ + 27% VAT
On-site after 25 September: 550€ + 27% VAT
Supporting company representatives:
Early bird until 1 June 2020: 350€ + 27% VAT
Standard after 1 June and until 25 September: 400€ + 27% VAT
On-site after 25 September: 450€ + 27% VAT
Students:
Early bird until 1 June 2020: 150€ + 27% VAT
Standard after 1 June and until 25 September: 200€ + 27% VAT
On-site after 25 September: 250€ + 27% VAT
More events