11th World Hematology and Oncology Congress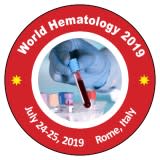 Exhibit
Symposia
Workshops
Organiser
Sponsor
We are glad to announce the 11th World Hematology and Oncology Congress (World Hematology 2019) which will be organized around the theme "Transpiring enigmas in Hematology and Oncology" on July 23-24, 2019 at Rome, Italy.
World Hematology 2019 is comprised of many interactive scientific sessions on different types of Blood disorders and Cancers as well as various diagnostic and therapeutic advancements in this field. It is an initiative to unite the diverse research and business communities working in this field under one roof to explore every single aspect of Oncology and Hematology.
World Hematology 2019 will provide an excellent opportunity for the budding scientists and young researchers through its special initiatives like Young Researcher Forum, Poster Presentation, B2B and Scientific Meetings.
The conference is focussed on the following topics and sessions:
Advancements in Hematopoietic cell transplantation
Anticipating the development of Paediatric Hematology/ Oncology
Recent trends in diagnosing Hematology/ Oncology indications
Emerging trends in Cancer Care
Therapeutic advancements
...
Programme available online here
Registration available online here
More events