Fixed Combination Conference 2017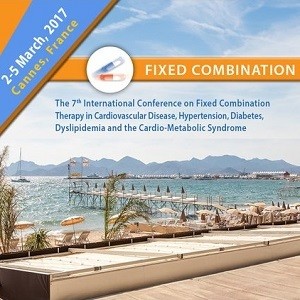 Exhibit
Symposia
Workshops
Organiser
Sponsor
Fixed combination has become popular over the recent years. It enables us to treat the patients with smaller amounts of tablets, thus improving compliance and effectiveness of treatment. It simplifies treatment, may decrease costs and minimizes the likelihood of missed doses. In specific cases it enables us to give lower doses of each component drug and thus combination therapy may reduce side effects. As a result, fixed combination therapy has shown to improve adherence and patients' clinical outcomes.
The scientific program will be designed to cover a wide range of cardiovascular diseases including cardiovascular risk factors and their treatment. It will include compelling topics such as Hypertension, Diabetes, Dyslipidemia, Obesity and the Metabolic Syndrome. The complications, like Heart Failure, Renal Dysfunction, Peripheral Vascular Disease and the use of combination therapy in these conditions will also be discussed. Various aspects of the Polypill, combination of two, three and even more medications in the same tablet, their feasibility and applicability, will also raise in discussions.
The conference is intended for experts in the fields of diabetes, hypertension, dyslipidemia, internal medicine, cardiology, nephrology, endocrinology, hyperlipidemia, family medicine, primary care physicians, nurse practitioners and physicians' assistants. All are invited to explore the current and future role of fixed combinations in the treatment of hypertension, dyslipidemia and diabetes.
Diabetes

Hypertension

Dyslipidemia

Internal Medicine

Cardiology

Endocrinology

Nephrology

Hyperlipidemia

Family Medicine

Primary Care Physicians

Nurse Practitioners

Physicians' Assistants

Conference Venue
Hotel Gray D'Albion,
38 Rue des Serbes, 06408 Cannes, France

Language
The official language of the congress is English.
Clothing
Clothing is informal for all occasions
Exhibition
A commercial and professional exhibition will take place during the conference.
Registration Fees ( Per Person)

Registration Type

Early
Registration
until
10 October, 2016
Mid Registration
11 October, 2016 until
10 December, 2016
Late Registration from
11 December, 2016

Onsite Registration

Participants

450 €

550 €
600 €

630 €

Participants
(from Developing Countries)*

400 €

450 €

500 €

530 €

Residents, Nurses, Students

400€

450 €

500 €

530 €

Accompanying Person (Optional) **

80 €

80 €

80 €

80 €

Gala Dinner

120 €

120 €

120 €

120 €
* Developing Countries; in accordance with the International Statistical Institute list of developing countries
based on United Nations sources.
Click here to view the list
Registration fees for Conference participants include:
Participation in the Conference scientific sessions
Conference kit
Welcome reception
Coffee breaks
Light lunch
Entrance to the exhibition
Group Registration Policy:
The group rate is not applicable to participants from Developing Countries
Click Here for Group Registrations
Payment:
Payment of registration fees should be made in Euro by one of the following methods:
By Credit Card (Visa, MasterCard, American Express, Diners)
Bank transfer
Bank details:
Holder: Paragon Conventions SA
Account No: 240-459284.75R
IBAN: CH31 0024 0240 4592 8475 R
BIC: UBSWCHZH80A
Cancellation policy for registration:
Up to 90 days prior to arrival-full refund less 20 € Bank charges
Up to 60 days prior to arrival-cancellation charge of 50 €
Less than 60 days prior to arrival-no refund
Treatment Simplification and Compliance
FDCs as First Step Treatment
FDC in Secondary Prevention
FDCs of Antihypertensive and Antidiabetic Drugs
FDCs of Antihypertensive and Lipid Lowering Drugs
FDC in the Elderly and Very Elderly
Ambulatory BP in the Assessment of FDC Efficacy
Home BP in the Assessment of FDC Efficacy
Combinations with Thiazides. Chlortalidone vs HCTZ
ACE Inhibitors and Diuretics FDC
ACE Inhibitors and Calcium Channel Blockers FDC
ARBs and Diuretics FDC
ARBs and Calcium Channel Blockers FDC
Triple Drug Combinations
The Polypills
FDCs as Generic Drugs
Guidelines
FDCs in Different Countries
Regulatory Aspects
Nutrition
Cost Issues
More events