ESC Preventive Cardiology 2020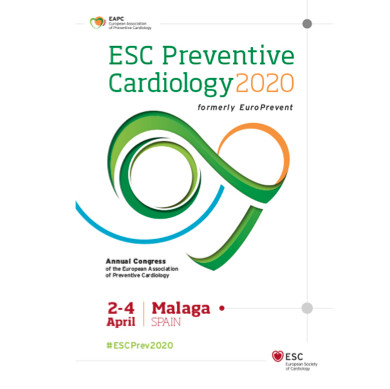 Exhibit
Symposia
Workshops
Organiser
Sponsor
ESC Preventive Cardiology is the leading international congress on preventive cardiology and the annual congress of the European Association of Preventive Cardiology (EAPC) of the ESC.
Why participate in ESC Preventive Cardiology 2020?
Learn across the full scope of preventive cardiology
From prevention, epidemiology and population science to cardiac rehabilitation and exercise, basic and translational research and sports cardiology.
The interaction between healthcare professionals in this congress environment can generate advances, theories and scientific collaboration that lead to more effective and efficient care.
Learn from world-renowned experts
Once a year leading professionals are invited to share their knowledge on the latest science on key topics providing you with the opportunity to expand your professional understanding in high-quality forums.
ESC Preventive Cardiology is the European Association of Preventive Cardiology's showcase congress. It's the most suitable international forum where leading experts from diverse scientific backgrounds in cardiology get together to present their investigations and translate them into tangible take-home knowledge. ESC Preventive Cardiology strives to deliver the latest news and science for allied health professions, cardiologists, general practitioners, policymakers, basic scientists and young researchers. The congress will provide the opportunity to share new findings, to network and to open new educational channels. It is additionally one of the best moments to meet renowned experts and our young cardiologists who are soon to be the future of the field.
Engage with our friendly and welcoming community, and specifically with EAPC members, to build your network.
Programme available online here
Registration available online here
More events