BSCI/BSCCT Spring Meeting 2021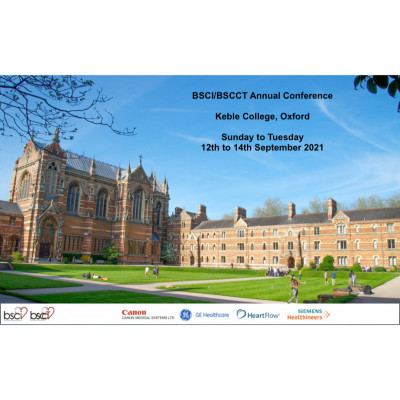 Exhibit
Symposia
Workshops
Organiser
Sponsor
The BSCI/BSCCT Spring Meeting in 2021 will be held in the beautiful surroundings of Oxford's Keble College.
Keble College was the first Oxford College of the modern era, and was founded in memory of John Keble (1792-1866), a key member of the so-called Oxford Movement which sought to recover the Catholic heritage of the Church of England.
The College opened its doors to its first 40 undergraduates in 1870. Keble's original architect was William Butterfield, who also designed Melbourne Cathedral in Australia. The College's polychrome brick architecture has long provoked controversy, but is now widely regarded as one of the finest examples of Victorian Gothic anywhere and has grade 1 listed status. The beautiful Gothic dining hall is the longest in Oxford. The Arco building was opened in 1995 in what had previously been the Fellows' Garden, and the Newman Quad was completed in 2002 with the opening of the Sloane Robinson Building. This development offers a state-of the-art conference venue, with a tiered lecture theatre and numerous breakout rooms.
The Programme for the 2021 Conference includes a number of innovations, with an emphasis on making the sessions entertaining as well as educational. On the Wednesday before the main Conference, delegates can choose to attend one of four intensive pre-courses, two under the aegis of the BSCI/BSCCT and two under that of the British Nuclear Cardiology Society.
The main Conference programme will include debates and an ever-popular Mulitmodality Imaging Quiz, ​In addition to more conventional sessions – if talks on imaging babies, the dead and animals can be regarded as "conventional"! Awards will be given during the meeting to delegates who have submitted the most striking imaging vignette in a number of categories. And for the first year, we will be running a series of 90 minute "read with the experts" sessions on various topics, in parallel with the "main" sessions.
Programme Coming Soon..
Registration Coming Soon..
More events