82nd Annual Meeting of the DGK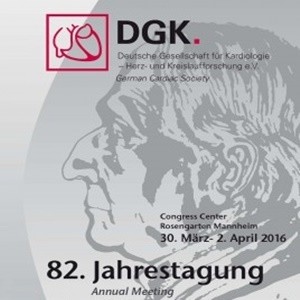 Exhibit
Symposia
Workshops
Organiser
Sponsor
Conference Theme
Cardiovascular medicine - High-Tech Medicine

Congress President
Prof. Dr. Andreas M. Zeiher, Frankfurt am Main
Congress venue
Congress Center Rosengarten Mannheim
Rosengarten Platz 2
68161 Mannheim

Organizer
Presenter
German Society of Cardiology - Cardiovascular Research eV
Grafenberger Allee 100
40237 Dusseldorf
Tel .: + 49 211 600692-0
Fax: + 49 211 600692-10
[email protected]
Congress fees Including programs book
| | | |
| --- | --- | --- |
| | Spätbucher- / spot price / Late and on site Fee | Early bird * / Early fairy |
| Congress Card / Congress ticket | € 120.00 | € 90.00 |
| Day ticket / Day Pass | € 65.00 | € 55.00 |
| Day ticket Saturday / Day Pass Saturday | € 55.00 | € 45.00 |
* Early Bird Price: Pre-registration with payment by 29 February 2016 * Early Fee: incl preregistration payment before February 29th, 2016
Mittwoch, 30.03.2016, 11:00 – 17:30
NACHWUCHSFÖRDERPROGRAMM
der Deutschen Gesellschaft für Kardiologie und des
Deutschen Zentrums für Herz-Kreislauf-Forschung
GRUNDLAGEN DER HERZ-KREISLAUF-FORSCHUNG
Vaskuläre Biologie
a) Mechanismen von Gefäßbildung und Remodelling – Vaskulogenese, Angiogenese, Arteriogenese
b) Mechanismen der Atherosklerose – Infl ammation und Lipidstoffwechsel
c) Mechanismen der Atherosklerose – genetische Determinanten
d) Mechanismen der Atherosklerose – Atherothrombose e) Metabolische Kontrolle des Gefäßsystems
f) Klinik und Forschung – Wie lässt sich das kombinieren?
Vorsitzende und Referenten werden noch bekannt gegeben.
Donnerstag, 31.03.2016
17:45 – 19:45 Eröffnung / Opening Ceremony
20:00 Get Together
Freitag, 01.04.2016
13:15 – 14:30 Mitgliederversammlung 1 der DGK / General Assembly (ggf. Mitgliederversammlung 2 am 02.04.2016, 14:15)
The Acute Coronary Syndrome – State-of-the-Art
Joint Session with the Belgian Society of Cardiology
Chair: F.-J. Neumann (Bad Krozingen)
A. M. Zeiher (Frankfurt am Main)
Meaning of Chest Pain Units
T. Münzel (Mainz)
Reperfusion/Revascularisation Strategies
F. Van de Werf (Leuven, BE)
Imaging to predict prognosis post-ACS
N.N.
Secondary prevention after ACS
C. W. Hamm (Gießen)
Interventionelle Therapie struktureller Herzerkrankungen
Vorsitz: F. W. Mohr (Leipzig)
H. Thiele (Lübeck)
Transkatheter-Aortenklappenersatz
G. Nickenig (Bonn)
Mitralklappen-Korrektur
S. Baldus (Köln)
Vorhof-Interventionen
H. Sievert (Frankfurt am Main)
Die Sicht des Herzchirurgen
W. Walther (Bad Nauheim)
Kardiale Regeneration: Wunsch oder Wirklichkeit?
Vorsitz: G. Hasenfuß (Göttingen)
G. Heusch (Essen)
Was können wir lernen von Modell-Organismen?
T. Braun (Bad Nauheim)
Endogene Reparatur B. Fleischmann (Bonn)
Endogene Reprogrammierung
A. Moretti (München)
Tissue Engineering
T. Eschenhagen (Hamburg)
Vorhoffl immern: Innovationen in Diagnostik und Therapie
Vorsitz: M. Borggrefe (Mannheim)
C. W. Israel (Bielefeld)
Implantierbarer EKG-Monitor
J. Brachmann (Coburg)
Kabellose Schrittmacher-Therapie
J. Sperzel (Bad Nauheim)
Komplexe Ablationstechniken
K.-H. Kuck (Hamburg)
Antikoagulation: klinische Realität im Kontext der Studien
N. Doll (Stuttgart)
High-Tech in der Herz-Kreislauf-Medizin: Chancen und Risiken
Vorsitz: N.N.
N.N.
IT-basierte virtuelle Medizin: eine Vision für 2030
N.N.
Der "gläserne" Patient
C. Woopen (Köln)
Was kann sich unser(e) Gesundheitssystem/Gesellschaft leisten?
N.N.
"End-of-Life" Entscheidungen
B. Schöne-Seifert (Münster)
Technische Innovationen in der intrakoronaren Diagnostik und Therapie
Vorsitz: A. Elsässer (Oldenburg)
S. Massberg (München)
Welche Zusatzinformationen benötigen wir im klinischen Alltag?
M. Kelm (Düsseldorf)
Intrakoronare Bildgebung: wann, womit, wofür?
H. Möllmann (Bad Nauheim)
FFR-gesteuerte Revaskularisation: Studien vs. klinischer Alltag
S. Fichtlscherer (Frankfurt am Main)
Bioresorbierbare Scaffolds
J. Wöhrle (Ulm)
Telemedizin in der Herzinsuffi zienz
Vorsitz: J. Bauersachs (Hannover)
M. Böhm (Homburg/Saar)
Telemonitoring klinischer Parameter
S. D. Anker (Göttingen)
Kontinuierliches Monitoring der Hämodynamik
B. Aßmus (Frankfurt am Main)
Multiparameter Monitoring über CRT/ICD
G. Hindricks (Leipzig)
Versorgungsrelevante Umsetzung in das Gesundheitssystem
F. Köhler (Berlin)
Kardiale Bildgebung:
von Struktur/Funktion zu molekularen Mechanismen
Vorsitz: H. Darius (Berlin)
U. Sechtem (Stuttgart)
Erwartungen an die kardiale Bildgebung
G. Ertl (Würzburg)
Kardio CT
S. Achenbach (Erlangen)
Kardio MRT
E. Nagel (Frankfurt am Main)
Kardio PET
F. Bengel (Hannover)
Molekulargenetik in der kardiovaskulären Prävention
Vorsitz: S. Blankenberg (Hamburg)
H. K. Kroemer (Göttingen)
R(E)volution molekulargenetischer Diagnostik:
Implikationen für die Kardiologie
H. A. Katus (Heidelberg)
Genom-weite Diagnostik: bereit für die Klinik?
H. Schunkert (München)
Von der genetischen Diagnostik zum therapeutischen Target:
die Erfolgsstory der PCSK9 Inhibition
N. Marx (Aachen)
Reprogrammierte induzierbare Stammzellen:
Krankheitsmodell genetischer Herzerkrankungen
K.-L. Laugwitz (München)
Die RNA Welt in der Kardiologie:
diagnostische und therapeutische Implikationen
Vorsitz: I. Fleming (Frankfurt am Main)
N. Frey (Kiel)
microRNA in der Atherosklerose
C. Weber (München)
microRNA in der Herzinsuffi zienz
S. Engelhardt (München)
Long non-coding microRNA bei kardiovaskulären Erkrankungen
S. Dimmeler (Frankfurt am Main)
Zirkulierende RNA als Biomarker
T. Thum (Hannover)
Samstag, 02.04.2016, 13:00 – 14:00
HIGHLIGHTS der Tagung und Verleihung des
DGK-Posterpreises 2016
Vorsitz: U. Landmesser (Berlin)
S. Massberg (München)
Preisverleihung
K.-H. Kuck (Hamburg), M. A. Zeiher (Frankfurt am Main)
Rhythmusstörungen
B. Nowak (Frankfurt am Main)
Interventionelle Kardiologie
H. Nef (Gießen)
Experimentelle Kardiologie
J. Backs (Heidelberg)
Herzinsuffi zienz
J. Bauersachs (Hannover)
More events