4TS 2023 Conference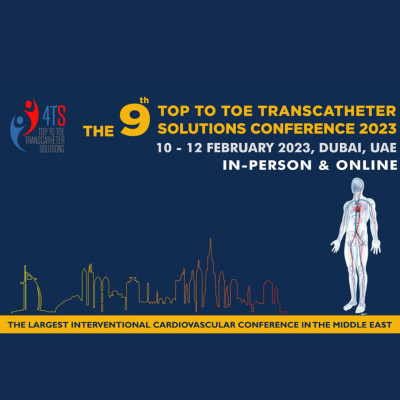 Exhibit
Symposia
Workshops
Organiser
Sponsor
We are excited to welcome you to the 9th Top to Toe Transcatheter Solutions Conference 2023 (4TS 2023) which will be held from 10 - 12 February 2023 in Dubai, UAE.
Our 2023 conference will be a Hybrid Event with a unique in-person experience showcasing science on latest advancements in Interventional Cardiovascular Science.
The Scientific Program Committee worked hard to put together a stimulating and innovative program with quality education and scientific content which is also highly clinically relevant.
This action-packed, three-days event will deliver top-notch education and training in Interventional Cardiovascular Medicine through a series of Key Note sessions, Challenging cases, workshop sessions and sponsored symposia and much more.
Our previous 4TS Conferences have established a reputable legacy amongst professionals working in the fields of cardiology, vascular medicine, interventional radiology and neurology attracting hundreds of delegates. 2500+ delegate attended our 2022 meeting! With over 120+ scientific sessions, 20+ exhibitors and over 100+ Local and International speakers, 4TS conference is one of the largest interventional Cardiovascular Conference in the Middle East.
Our delegates are from multi-disciplinary background, giving you a unique opportunity to engage and network with professionals from Interventional Cardiology, Vascular Medicine, Interventional Radiology, Internal Medicine, Neurology, Endocrinology, Nursing, Scientific Research and Technology and Applications.
The 4TS Conference has been organized to promote a wide range of topics and attracts an excellent faculty of home grown and international speakers who are experts and industry leaders in their fields.
Conference Highlights
Learn the latest guidelines & evidence based treatment for cardiovascular problems
Discuss the current start-of-the-art treatment options for patients with coronary, vascular, congenital, aortic and heart failure problems.
Identify the methodologies for accurate and timely assessment of patients with cardiovascular diseases.
Discuss challenging cardiovascular cases around the world from various experts.
Who can Attend
Cardiologists
Radiologists
Neurologists
Vascular Surgeons
Cardiac Surgeons
Neuro Surgeons
Internist
Lipidologists
General Physicians
Nurses
Technicians
Allied Healthcare Professionals
Students
More events