35th EACTS Annual Meeting 2021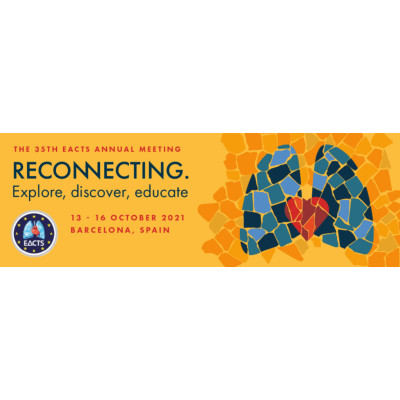 Symposia
Workshops
Organiser
Sponsor
The EACTS Annual Meeting is the largest event for the cardiothoracic community, offering an exciting opportunity to explore new scientific insights, learn about the latest innovations in cardio-thoracic surgery and importantly, take part in some stimulating debates alongside global experts.
A hybrid Annual Meeting
This year we continue to break new boundaries by offering a hybrid Annual Meeting in Barcelona allowing delegates to attend in-person, subject to COVID-19 restrictions, or online via our new virtual platform.
Commencing on Wednesday 13 October with a full day showcasing new technology and techniques in our Techno-College sessions, our world-class science will continue over the next 3 days (14-16 October).
There will be a packed programme of education and discussion ranging from plenary sessions covering the latest guidelines and clinical trials to informative debate through professional challenge, focus and abstract sessions and interactive hands-on training.  We look forward to sharing more details soon.
 Please join us at the 35th EACTS Annual Meeting to explore, discover, educate, and shape the future of cardiothoracic surgery.​ 
Programme Available Online here
Registration Available Online here
More events