21st World Congress on Heart Disease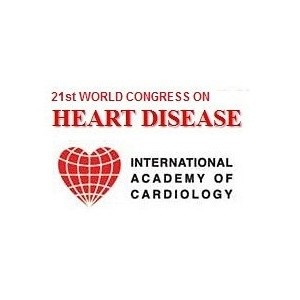 Exhibit
Symposia
Workshops
Organiser
Sponsor
The Congress will provide the opportunity for a comprehensive overview of the latest research developments in cardiovascular medicine, primarily in the areas of molecular biology, coronary artery disease, heart failure, cardiac arrhythmias and cardiac surgery.
Plans for this CME meeting are progressing extremely well. Many distinguished cardiologists and scientists have agreed to join the faculty participating in this Congress. Papers will be presented in the form of plenary sessions, symposia and posters, and will include superb scientific material originating from numerous laboratories around the globe, assuring that the meeting will be a major scientific event.
Program areas will range from clinical pathophysiology to evaluation and stratification techniques and molecular and cellular biology, including neurohumoral, immunological and genetic studies. We will discuss new and innovative diagnostic methods, prevention and treatment of heart disease, and prognostic algorithms. Integrated into the program will be an update on the latest major clinical trials. We hope that you will participate in this Congress and submit for presentation your most recent scientific work in the rapidly evolving field of cardiovascular disease.
We encourage all attendees to arrive in Boston on Friday, July 29, 2016.
The Scientific Program will run from 08:00 on Saturday, July 30 to 14:30 on Monday, August 1.
Registration will be open from 17:00 - 19:30 on Friday, July 29th and will be followed by a Get Together Reception from 18:00 - 19:30.
CME Meeting
The scientific program of The International Academy of Cardiology, Annual Scientific Sessions 2016, 21st World Congress on Heart Disease has been reviewed by the American Medical Association and approved for a maximum of 23 AMA PRA Category 1 Credits™. Physicians should only claim credit commensurate with the extent of their participation in the activity. One credit may be claimed for each hour of participation in approved sessions.

ABSTRACTS
Participants interested in presenting oral communications and/or poster presentations are invited to submit their abstract(s) directly via the congress website for consideration by the Scientific Committee. Please see Abstract Guidelines page and Abstract Form for online submission.
Abstracts sent by mail or fax will not be processed by the Secretariat and will not be forwarded to the Scientific Committee for review. In case of genuine difficulties, please contact the Congress Secretariat: [email protected] Please do not submit multiple copies of the same abstract. If submitting an amended abstract, please indicate that it is a replacement abstract and provide the number assigned to the abstract. Each presenting author may submit up to two abstracts for oral presentation and two abstracts for poster presentation.
Symbols, tables, graphs or pictures cannot be submitted via the website. Abstracts containing symbols, tables, graphs or pictures must be e-mailed as a Word document attachment to the Congress Secretariat: [email protected] Include the presenting author's full contact details as well as the category under which your abstract should be reviewed.
DEADLINE FOR RECEIPT OF ABSTRACTS: FEBRUARY 25, 2016
Registration Categories

Mar. 20, 2016

Advance from

March 21 -June 10, 2016

June 10, 2016

Participant
US$ 560
US$ 680
US$ 780
Nurse, Technician, Trainee *
Student **
US$ 460
US$ 580
US$ 680
Farewell Dinner (optional)
US$ 120
US$ 120
US$ 120
Get-Together Reception cost for Accompanying Person(s)
US$ 50
US$ 50
US$ 50
* Letter of verification required
** Valid student card required
Fees for PARTICIPANTS include: participation in all scientific sessions, Congress kit, Program and Invitation to Get-Together Reception.
Friday, July 29, 2016



17:00-19:30
Registration Opens
18:00-19:30
Get-Together Reception for
Registered Participants

Saturday, July 30, 2016



07:30-17:00
Registration
08:00-19:30
Scientific Program
09:00-10:30
Opening Ceremony and
Opening Lecture
10:00-17:00
Exhibition



Sunday, July 31, 2016



07:30-17:00
Registration
08:00-19:30
Scientific Program
10:00-17:00
Exhibition
20:00-22:00
Farewell Dinner (optional)

Monday, August 1, 2016



07:30-13:00
Registration
08:00-14:30
Scientific Program
10:00-13:00
Exhibition
TOPICS
More events